FreeOnlineGuitarLessons-RagMamaRag Shows You How Blind Boy Fuller Did It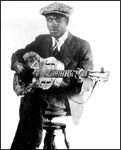 FreeOnlineGuitarLessons-RagMamaRag is one of the most accurate free acoustic guitar lessons available online.
What good is a country blues guitar lesson that isn't true to the recording?
In this next of our series of free acoustic guitar lessons we show you how to make the sounds on the recording.
Blind Boy Fuller was from North Carolina and is considered to be a Piedmont style player.
The Piedmont is a region in the Carolinas. The players from there have a particular feel to their playing. To my ear, the Piedmont style is more melodic than rhythymic. Because it's not a primarily slide based style, there seems to be much less use of open tunings.
Other well known Piedmont style players are Reverand Gary Davis, Blind Blake and Pink Anderson.
Fuller had a rough life. He worked as a laborer until he lost his sight as a young adult. After losing his sight, he began to earn a living playing on the street in Durham, N.C. He was a friend of Reverend Gary Davis' and was very influenced by his playing.
In Stefan Grossman's interview with Davis, Davis said:
"Q: Tell me about Blind Boy Fuller.
A: His home was in Rockingham, North Carolina. He came up to Durham later. When I first run across him he didn't know how to play but one piece and that was with a knife.
He wanted to take some of my training. I'd sit down and he'd come up to my house everyday and sit down and play. I taught him how to play. He would have been alright if I kept him under me long enough."
In spite of Davis' opinion, Blind Boy Fuller is considered to be a master of the Piedmont style.
Besides Reverend Davis, Fuller was also influenced by the recordings of Blind Blake, as were many other guitarists of the era.
The Song
There is a primary progression that runs through FreeOnlineGuitarLessons-RagMamaRag.
The song uses the chord shapes of C, A, A7, C7, and G7. On the recording a capo is used on the 4th fret.
The progression is very easy to play in the left hand. The thing that makes it unique is the right hand.
Sometimes you hear this song played in a very "folk-y" manner. I think that this robs the song of all of it's vigor.
Listening to a recording of this song, shows Fuller sounding full of energy. It's definitely not a wimpy, limp sounding approach.
Another notable thing that I try to show in FreeOnlineGuitarLessons-RagMamaRag is how he inter-mixes fingerpicking and strumming. He's using a downward stroke with his thumb to play the A- A7 passage.
Blind Boy Fuller played a National Duolian. I don't know if he played other guitars before getting a National or if that was what he began with.
It sounds to me like he's using metal fingerpicks on this recording.
It would be logical to assume that he used plastic fingerpicks like his mentor, Gary Davis, but they sound like metal.
It also sounds to me like he's playing with the thumb and 2 fingers. But, much of FreeOnlineGuitarLessons-RagMamaRag could easily be played with the thumb and 1 finger.
There's sheet music for this song available here. I use a program called TablEdit for the music.
To see the music you'll need a TEF Viewer. You can download it free here.
The lyrics are listed under Score>Notes.

To really get a feel for this song, repeated listening to the recording is a must. I learned this song off of East Coast Piedmont Style
.
To slow it down enough to clearly hear the parts, I used a program called Transcribe. It lets me to slow down a song without changing the pitch of the notes. It's the best software that I've found for this purpose.
They offer a free 30 day trial, if you want to check it out.
To me, the key to learning this song is to learn the fingerings and the right hand at a slow speed,then speed it up.
That's it for FreeOnlineGuitarLessons-RagMamaRag.
Return to learn-fingerstyle-guitar.com .