The right music can help set the mood for the entire wedding ceremony. Playing weddings also be a far better paying gig than the restaurants and coffee houses that so many fingerstylists end up playing.
What does a fingerstyle guitarist need to know to be successful playing wedding guitar music?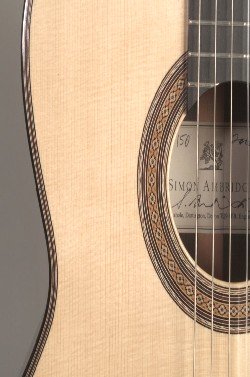 For starters, you need to be able to play. At the beginning, let the work find you. In other words, you're ready when someone approaches you about playing their wedding.
Weddings can be very stressful. You need to be a good enough player so that you don't have to think about the playing.
You're not ready if you lose your concentration when a busboy drops a dish at your twice a month restaurant gig.
Repertoire
The wedding guitar music that you play is extremely important. There are some songs that are standard for weddings. They are mainly classical compositions.
If you don't already know songs like the Wedding March, you should get a a book of wedding music and memorize the most popular numbers.
The books of wedding music on the market are mainly written for classical guitarists. They are mainly written in standard notation, although there are a few tab versions available.
Besides the ceremony, the wedding party may want the guitarist to play at the reception. In that case, most guitarist will play a mix of light classical, pop, and jazz standards. The wider your repertoire, the better.
Musician's Requirements
Here are some things to make sure the client understands.
Guitarist needs dry, level place to set up
There should be a nearby power supply
Guitarist must be told at time of booking if power is not available
If wedding is outdoors, shade must be available for the guitarist
Set up area should not be near heaters, fireplaces, drafty windows or exterior doors
Cues should be clearly designated before ceremony
Client must provide detailed directions to the wedding site
Client's Requirements
Besides wedding guitar music, there are some other things that a professional guitarist should provide the wedding party.
A contract specifying the terms of the engagement and payment
Proper attire. A good suit and tie or tuxedo
Properly working equipment and professional quality guitar
Reliable transportation.
Other Considerations
Here are some other ideas that can help make playing weddings go smoothly.
Allow enough time for the unexpected (flat tire, bad directions, etc...)
Take a change of clothes
Waterless hand cleaner ( for the tire that you had to change)
Extra things like cables and strings
Make sure that your amp or P.A. is large enough for the venue
Don't play too loud
The wedding planner may ask questions like, do you have references? How many weddings have you played? What happens if you can't make the date? Do you have backup equipment? How much of a deposit is needed?
These are all good questions. It's a good idea to think of the answers in advance. Always be truthful, especially on the issue of how many weddings that you've played. Everyone starts somewhere. Besides, it wouldn't be a question if the person asking it didn't like your playing.
Also consider a duet partner. Flute and guitar duets are common. It's a great sound and there has been some beautiful music written for that combination.
Weddings are special events. You can make them even more special by playing the right Wedding Guitar Music and acting in a profesional manner.
Want to find out more about what you need to know to play weddings?


WeddingCeremonySongs

WeddingCeremonySongs looks at the approaches available to fingerstyle guitarists who want to play weddings.




A look at the most popular songs for the wedding ceremony.