Introduction To Thumbstyle Guitar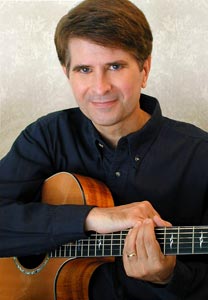 Introduction to Thumbstyle Guitar
by Pat Kirtley is a pretty good way to get started with thumbstyle guitar. Don't be mis-led, though. This Instructional DVD is not for the brand new guitarist. If you've not already at ease with fingerstyle guitar, this may be beyond your skills.
It all boils down to your thumb. You have to be able to put your thumb on auto-pilot. If you don't have boom-chick down, the rest won't sound right.
Having said that, Kirtley isolates the thumb and shows the boom-chick technique.
There is a short history of thumbstyle guitar. This includes introducing the men responsible for developing the style.
They are Mose Rager, Merle Travis and Chet Atkins. Kirtley goes on to show the similarities and differences in their styles.
The Tunes
The tunes shown on this DVD are mostly classics of thumbstyle guitar. They include I Am A Pilgrim, I'll See You In My Dreams, Deep River Blues, Ready For The Times To Get Better, and Guitar Rag.
I'm not going to breakdown every song. I will share some general impressions that I got from them.
The emphasis on Introduction to Thumbstyle Guitar is on learning the tunes. Pat Kirtley does a good job of that. He's a personable teacher with an easy, relaxed style.
I did find it a little odd that he seems not know the names of some of the chords that he uses. That's not too unusual if you're figuring out something for yourself. It does matter on an instructional DVD.
There could also be a little more instruction on technique. Kirtley has a great right hand and plays beautifully. It wouldn't hurt if he shared a little about how to do that with the viewers.
Conclusion
Overall, Introduction To Thumbstyle Guitar is a keeper. I do have a few issues with it. However, those issues don't keep it from being an effective instructional DVD. If you can already fingerpick, this is a good way to learn to thumbpick. If you rent it, try to find the written music somewhere.
When you buy something from a merchant through a link at learn-fingerstyle-guitar.com, I get a small commission. This doesn't make what you're buying cost more.
These commissions help me to be able to continue to offer you free information and lessons.
Return to learn-fingerstyle-guitar.com
>