Jody Fisher's Art Of The Solo Guitar 1 Is A Desert Island Book!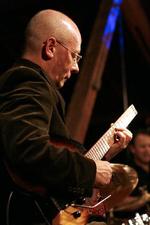 Jody Fisher's The Art of Solo Guitar 1
is a masterwork of guitar instruction. The information in this book teaches you how to do it yourself.
The only songs in the book are exercises to demonstrate the techniques described. I found the instruction in the book to be very clear. It's also layed out in a logical order.
It begins with a section on basic fingerboard geography. Things like the difference between up the fingerboard and down the fingerboard. There is a description of whole and half steps. There is also a chart of notes on the staff and their letter names.
The next section covers technique with discussion on pick and finger style playing and left hand technique.
After these basics Fisher begins his discussion on music theory. These are some of the easiest to understand descriptions on music theory that I've ever read. I also find the illustrations to be very easy to understand and use.
There are good sections on playing harmonized scales. This includes the natural, harmonic and melodic minor scales.
From this point on the book covers basic arranging,octaves,double stops, and chord extensions.
Conclusion
Jody Fisher's Art of The Solo Guitar Book 1 is a desert island book. You could literally take this to a desert island and teach yourself to play guitar. It's a great book to use if you're teaching yourself to play. It also works well as a text for guitar instructors. There are good clear illustrations throughout the book and a CD is included.
The Art of Solo Guitar Book 1 (Book & CD)
has certainly been the most influential instructional book in my own playing development.
When you buy something from a merchant through a link at learn-fingerstyle-guitar.com, I get a small commission. This doesn't make what you're buying cost more.
These commissions help me to be able to continue to offer you free information and lessons.
Return to learn-fingerstyle-guitar.com .